Payment Options
Minnesota Valley offers a variety of ways for you to pay your bill that best fits your needs. Review the different options below to find which one would work best for you!
Automatic Payment Plan
You can enjoy the convenience of having your electric bill paid automatically from your bank account each month. We will send you a monthly bill as usual stating that payment is going to be made by your bank.
If you'd like to sign up for this payment option call Minnesota Valley R.E.C. directly at 320.269.2163 / 800.247.5051 or send a voided check with your next payment.
Mail: Bill Instructions
Readings are recorded on the 1st of each month and monthly bills are mailed around the 10th of each month. Payments are due by the 25th of each month. The delinquent charge is 1.5% of the total monthly charges on any bill not paid by the 1st of the following month. The envelope in which you receive your bill is designed so that it also serves as your return envelope for making a payment. This procedure may be confusing at first, but instructions on how to use your new envelope are shown below and will be printed on the back side of the envelope.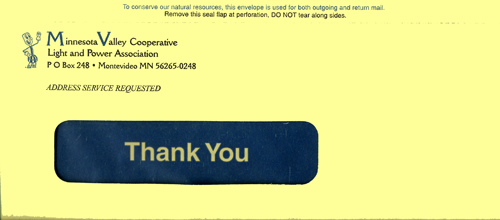 The front of your billing envelope (Yellow envelope with blue accents).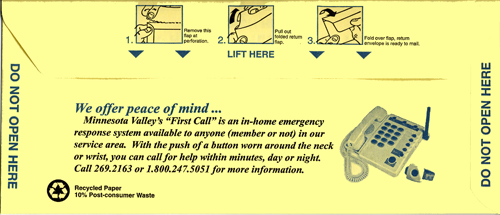 The back side of your billing envelope with return envelope instructions.

These instructions for using the envelope to mail your payment to Minnesota Valley will be printed on the back of the envelope in which you receive your bill.
Budget Billing
If you have been a member of the cooperative for 12 months and have a good payment record, you are eligible to be on "Budget Billing". This program allows you to make fixed monthly payments on your energy bills. The monthly payment is determined by an average of the last 12 months' bills. Bills are calculated in June and any balance due over the budget amount must be paid at that time.
New Payment System Coming Soon
WEBSITE UNDER CONSTRUCTION
Minnesota Valley Light and Power Cooperative is currently changing over to a new software company and our ability to take payments on our website will not be available until after January 15, 2018.
Stop back after January 15th to register and see the new and improved enhancements for your account.
Please call the office at 320-269-2163 with any questions.