Utilities Unite to Slam the Scam
By Michael W. Kahn | ECT Staff Writer
Published: October 13th, 2014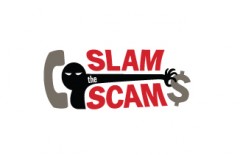 With scammers preying on consumers throughout the state, Minnesota utilities are uniting to "Slam the Scam."
Great River Energy, its member distribution co-ops, the statewide association and investor-owned utilities are behind the campaign to make Minnesotans aware of scammers' tactics.
"We've heard from our members that more and more of their members have been calling them, letting them know that they have received questionable phone calls or emails from scammers," said Therese LaCanne, manager, corporate communications at Maple Grove-based Great River Energy.
"Slam the Scam" has a simple message: If you think there's a scammer on the other end of the phone, just slam down the receiver.
"It's an educational program," said LaCanne. Radio and TV interviews, co-op newsletter articles, social media and other efforts aim to "raise awareness and make sure that co-op members are not taken advantage of by scammers."
Joe Miller, public relations director for Farmington-based Dakota Electric, said the program reiterates that members should "never give out personal information or credit card numbers, or wire money, as the result of an unexpected phone call—especially if you can't validate where it's coming from."
One of the more popular scams in Minnesota has scammers telling victims to buy pre-paid debit cards. "That should be a red flag," Miller said. Another common tactic involves calling a busy restaurant and threatening to disconnect them.
Tami Zaun, public relations coordinator at Lake Country Power in Grand Rapids, also noted that, "If someone is up for a disconnection or they're late on their bill, they will receive, in the U.S. Mail, a letter stating that fact. Utilities offer many payment options and never call consumers asking for banking information over the phone."
LaCanne, Zaun and Miller said consumers should never hesitate to call their co-op to discuss any calls or emails they receive.
Along with Great River Energy and its members, five Minnesota investor-owned utilities are also participating in "Slam the Scam."
"As a utility, we can't stop the scam calls. But we certainly can make every effort to help make sure that the scams are not successful," said Amy Rutledge, Minnesota Power's manager, corporate communication.
LaCanne said cooperation among the state's utilities is a regular thing. "We work together on a variety of issues," she said, "whether it's building transmission or issues before the legislature."